AoA DVD Ripper - Copy DVDs to your hard drive in AVI/DivX/MPEG formats. Extract audio tracks from DVDs.

AoA DVD COPY - Back up DVD to DVD recordable (shrinking, splitting or main movie) and to hard drive.

AoA iPod/iPad/iPhone/PSP Converter - Converts videos into a format that your portable device
(Sony PSP, Apple iPod Video, 3G cell phone,
MP4 Player...) can play.

Screenshots of Advanced X Video Converter
---

Advanced X Video Converter is designed to meet all your needs of converting, joining and splitting video files to AVI, DivX, MOV (QuickTime), MPEG-1,MPEG-2, MPEG-4, VCD, SVCD, DVD, WMV, ASF formats. Extract original movie sound tracks and convert movie to pictures.
[more...]
Convert Video

This

video converter software

works with all AVI formats, including DivX, XviD, and MPEG-4. All older MPEG formats are supported, along with WMV/ASF files and DVD, VCD, and SVCD formats. If you have a collection of video files to convert from one format to another, you can transform them quickly in batch mode.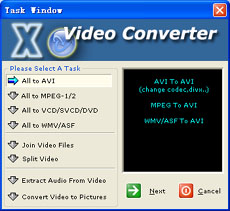 Join Video
This program lets you join small video files into a large one. You can take the vacation, wedding, and family movies that you have scattered on your hard drive, and combine them creatively into a single movie.
Split Video
This program also splits large video files into smaller pieces. You can create files that are small enough to email to friends and family.
Extract Audio and Pictures
Extract the audio track from movie, and save it as a standard WAV audio file. You can also extract images from any movie, and save them as individual photo images.