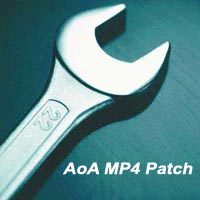 AoA MP4 Patch
Fix the "Error 2002: a bad public movie atom was found in the movie" problem with MP4 video in iTunes / Quicktime on Vista.
Have you ever been going mad having problems importing video files into iTunes? You try to import a video file into iTunes, nothing happens. If you try to open this "bad file" in Quicktime, you get a "Error - 2002: a bad public movie atom" message in a popup box.
AoA MP4 Patch is a handy free software to help you fix the problem.

Download AoA MP4 Patch Now
Specifications:
Latest Version - 1.1.4
Designed for Windows 7/2000/XP/Win7/Vista
License - Freeware

AoA MP4 Patch (802KB)