Advanced X Video Converter is a comprehensive video conversion software that makes it easy to convert, join and split video files. It supports almost all popular video formats, e.g. AVI (DivX, XviD...), MPEG, MOV (QuickTime), MP4, iPod, iPad, iPhone, WMV, Zune, Flash Vieo (FLV), Kindle Fire, Android Mobile, 3GP (Cell Phone), PSP and M4V. It converts videos to PowerPoint friendly format as well.
More Features. More Fun!
Video to Picture
You can easily extract pictures from a video, or convert videos to JPG/PNG with Advanced X Video Converter.
Extract Movie Clip
Advanced X Video Converter makes it so simple to extract and convert your favorite clip from a video.
Disable Audio
You may need to remove sound track from video. Advanced X Video Converter allows you to strip audio with a few clicks!
Advanced X Video Converter

is a video conversion powerhouse, but it was designed to be used by people who don't want to understand the technology behind the various file formats. It has Quick Profiles built-in.

Simply

choose the device or the output format that you want to convert to, and it knows exactly how to perform the conversion, with no need for you to think about complicated settings.

If you have a collection of video files to convert from one format to another, you can transform them quickly

in batch mode.
Split Video Into Smaller Pieces

Advanced X Video Converter also splits large video files into smaller pieces. You can create files that are small enough to email to friends and family.
Extract Pictures From Video

Also, if there's a view that you like in one of your movies, or you just want to convert a video into images, Advanced X Video Converter will help you do this with the Convert Video to Pictures feature. You can change the number of pictures which will be taken per second, and you can select the start and end time, so that no unnecessary pictures are taken.
Join multiple videos in various formats into one large movie

Superior to other video joining software, Advanced X Video Converter can join as many as video files, even they're in different video formats.
---
Whether you're a business person who needs to distribute video files to customers and prospects, or a home computer user who wants to organize and manage your family and holiday movies,
Advanced X Video Converter
has the tools that you need.
---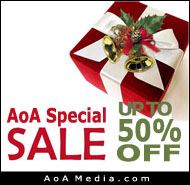 Happy Users
Easy to use
Online help and guides
Fast email support
Secure online payment

It's strongly recommended to use AOA DVD RIPPER, which aims to convert DVDs/VOB to AVI/MPEG/WMV/MP4
/3GP/WAV and outputs smaller size video with better quality.
Testimonials
Joseph Holton, US
Easy to use and supports many file types, I find it to be a fast easy to use video conversion tool which not only supports most video file types,but has all the options the advanced user could want as well.
Steve Pestell, UK
I need to convert 3Ds AVI files to mpgs for students DVDs. Your video converter seems fantastic to work with.
Darrick N, Denmark
Perfect! It did just what it said it would. With a simple user interface that required NO learning process! All the different options for converting video, a friend of mine recommended the program.
Thomas G, US
I created my blog and I want to use video file on my blog. Great evaluation program that did exactly what it said on the tin.