In this guide we will explain how to convert DVD to VCD / MPEG-1 format and burn it to a CD.
AoA DVD RIPPER provides a fast and easy way to convert your DVD movies or just the parts of the movie that you want. It copies in high quality AVI (DivX, XviD...), WMV (Pocket PC, Zune...), MP4 (iPod, PSP...), 3GP, Flash Video (*.flv), VCD (MPEG-1) and SVCD (MPEG-2) formats. It also extracts audio tracks from DVD movies.
Tips before we get started:
Step 1. Convert DVDs to VCD / MPEG-1 Format
Step 1-1:

Obtain and install AoA DVD Ripper.

Step 1-2:

Start the program and select "MPEG-1 / VCD (*.mpg)" from the drop-down list of Convert To.

Step 1-3:

Load your DVD.

Note: Please select the output format before loading a DVD.

Step 1-4:

Select the root directory of your DVD disk in the previous step and press OK.

Step 1-5 (Optional):

RIGHT-CLICK to change the output name.

Step 1-6:

Press the Settings button.

Step 1-7: (Optional)

On the System tab, check the option to shutdown your PC when done for these long, overnight jobs.

Step 1-8:

If you want to get standard VCD format for future burning to a CD, select "VCD PAL Standard" or "VCD NTSC Standard" from the drop-down list of "MPEG Type".

Step 1-9:

Double-check the title, the output type, the subtitle, set the output directory, and press the Start button.
Step 2. Burn the Video to a CD with a CD Burner
Step 2-1:

In this guide, we'll show you how to burn the video to a CD with Nero.

If you don't have Nero, click here to

get a free CD burner

software - VcdWizard.

Step 2-2:

Launch Nero and then click the Wizard button.

Select CD in the list.

1

Select

the

Video

CD

icon or the

Video

CD

tab.

(2

)

Select radio button PAL or NTSC depending

on

what format your output VCD file, which is

generated

by AoA DVD Ripper.

(3

C

lick

the

New button.

(4)

Step 2-3:

Locate your .mpg and drag it to the region

6

.

You

can add

multiple mpg files

at one time.

5

Rename the CD by

pressing

F2 on NEW.

7

Select File->Write CD or click Open the write cd dialog... button.

8

Step 2-4:

Select

a

Write speed, lower

speed

would

work better.

9

Select Disc-At-Once

in the Write Method

.

10

Check the

Finalize CD

box in Action.

11

Click Write button.

12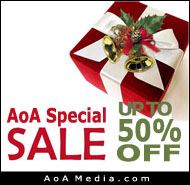 Copy and burn DVD movies on DVDR/RW discs for playing back on DVD player.