If you've got a 3G cell phone, one of the things you probably want to do is put movies on it. After all, despite the small screen, movies really do look great on the cell phone, and it's a lot easier to carry around than a laptop or portable DVD player.
In this guide we will explain how to rip video off of any DVD and get it onto your cell phone/mobile (DVD to 3GP ).
How to Put DVDs on Your Mobile/Cell Phone (DVD to 3GP)
Step 1:

Obtain and install AoA DVD Ripper.

Step 2:

2-1. Start the program

2-2. Set the output format to "Mobile 3GP (*.3gp) " .

2-3. Load your DVD.

Step 3:

Select the root directory of your DVD disk in the previous step and press OK.

Step 4:

Select the entry with LONGEST time (under Duration) and RIGHT-CLICK to change the output name.

Step 5 (Optional):

Press the Settings button.

Step 6 (Optional):

You can configure output size, frame rate and bitrate on this window.

Step 7:

Double-check the title, the output type, the subtitle, set the output directory, and press the Start button.

Step 8:

Sit back and watch your movie convert before your very eyes!

AoA DVD Ripper has an option to shutdown your PC when done for those long, overnight jobs.

Click here to see the guide on how to extract video clip or scene from a DVD.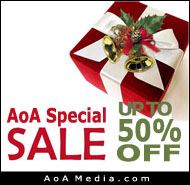 Copy and burn DVD movies on DVDR/RW discs for playing back on DVD player.