In this guide we will explain how to extract audio tracks from a DVD (convert DVD to WAV/DVD to MP3) .
AoA DVD RIPPER provides a fast and easy way to convert your DVD movies or just the parts of the movie that you want. It copies in high quality AVI (DivX, XviD...), MPEG, MP4, iPod, iPhone, iPad, Android Mobile, WMV, Zune, 3GP (Cell Phone), PSP and Flash Video (*.flv) formats. It also extracts audio tracks from DVD movies (DVD to WAV).
Extract Audio From DVD, Convert DVD To WAV, DVD to MP3
Step 1:

Obtain and install AoA DVD Ripper

Step 2:

Start the program and select "Extract Audio (*.wav) " from the drop-down list of Convert To.

Step 3:

Load your DVD.

Note: Please select the output format before loading a DVD.

Step 4:

Select the root directory of your DVD disk in the previous step and press OK.

Step 5:

Now your DVD is ready to begin. Notice that the first title has the longest time in duration. This is probably going to be the one you want to convert.

If you want to extract all the audio tracks, right click on an item and select "Check All Titles".

Step 6:

Double-check the title, the output type, the subtitle, set the output directory, and press the Start button.

If you want to convert WAV file to MP3, AC3, iPhone Ringtone or WMA, use AoA Audio Extractor.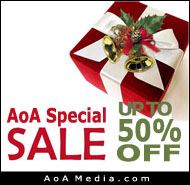 Copy and burn DVD movies on DVDR/RW discs for playing back on DVD player.