How to make the output size fit in a 80min/700MB CD-R
Obtain and install AoA DVD Ripper.

Step1

Launch AoA DVD RIPPER and then press the Settings button.

Step2

Select the DivX codec and press the Configure button.

If you cannot find the DivX codec from the list, obtain it by installing k-lite codec package.

Step3

On the main tab, press the calculator button.

Step4

Enter the output file size you want, e.g.650MB.

If you want to make the output size fit in a 80-min CD, just select "700MB CD-R" and then set the duration as 1 hour 20 mins.

Press "Accept".

Step5

Once your settings are set properly, press the OK checkmark.
Step6

Double-check the title, the output type, the subtitle, set the output directory, and press the Start button.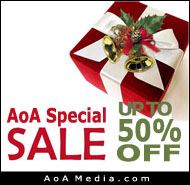 Copy and burn DVD movies on DVDR/RW discs for playing back on DVD player.