To get best conversion result for playback on your computer, we highly recommend you convert your DVD DivX or Xvid.
DivX is a popular format for viewing DVD movies on PCs due to its high compression rate. The DVD copied and compressed by DivX is of high quality and takes up less room on hard drive. XviD and DivX both share many common features and both came from the same open-source code.
In this guide we will give you step-by-step and precise instructions on how to convert your DVD to DivX. It's very similar with DVD to Xvid ( just set AVI video codec as Xvid on Step12).
Hope you enjoy this guide. ( Versão em Português, Versión en Español Thanks Harry Bougleux for translating this guide into Portuguese and Spanish! )
How to create a DivX /XviD file from a DVD (DVD to DivX)
I have three simple criteria for my movie conversion:
After trying several video conversion tools (including Doctor DivX), the AoA DVD Ripper is the only one tested that could meet my criteria. Below are the steps I went thru to create an AVI file from a DVD.
Step 1:

Obtain and install AoA DVD Ripper.
Step 2:
Start the program and load your DVD.
Select the root directory of your DVD disk or the folder "VIDEO_TS".
Step 3:
Now your DVD is ready to begin. Notice that the first title has the longest time in duration. This is probably going to be the one you want to convert.
RIGHT-CLICK any title and Uncheck all the titles.
Step 4 (optional):
Select the entry with LONGEST time (under Duration) and RIGHT-CLICK to change the output name.
Enter the new output name.
Step 5:
If your source DVD is NTSC (USA), set the output frame rate as 29.97/23.976 and the resolution as 720/480 on the Output tab.
If your source DVD is PAL (Europe and the rest of the world), set the output frame rate as 25 and the resolution as 720/576.

Step 6
Select the DivX codec from the drop list of "AVI Video Codec".
Note: If you want to convert DVD to Xvid ( simply set the Video Codec as XviD) .
If you cannot find the DivX/Xvid codec from the list, obtain it by installing K-Lite codec package.
Step 7
(
optional
)
Only if you found that video is not in sync with the audio, try the four options (None, Auto, Enhance, Force) each on 2 minutes piece and see which one works.
Step 8:
Double-check the title, the output type, the subtitle, set the output directory, and press the Start button.
Step 9:
Sit back and watch your movie convert before your very eyes!
Note that divx version six now has a status activity feedback window. Observing this window for very long may damage your social life.
AoA DVD Ripper has an option to shutdown your PC when done for those long, overnight jobs.
Want to backup DVD movies to DVD R/RW discs directly? Try our another useful program AoA DVD COPY.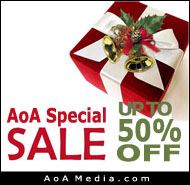 Copy and burn DVD movies on DVDR/RW discs for playing back on DVD player.